Saline Royale, museum with designer rooms, garden festival and events between Paris and Lyon
East

The Saline Royale is a museum with designer rooms, a garden festival, and events two hours and 20 minutes from Paris (on the high-speed TGV train) and two hours from Lyon
Called the "Utopian City," the Royal Salt Works is located on the edge of the Doubs and Jura departments in the Franche-Comté region. Listed as a World Heritage Site by UNESCO in 1982, this monumental construction is the work of Claude Nicolas Ledoux, a late 18th century "utopian" architect who created a truly unique ensemble of buildings.
Completely restored, the complex includes meeting rooms, event spaces and, in the buildings surrounding the museum, guest rooms designed Jean-Michel Wilmotte. At night, outdoor lighting by Michel Verjux allows visitors to appreciate the Saline Royale in all its majesty.
Guest rooms look out on the gardens, which were recently redesigned and are the setting for the annual themed Garden Festival.
The Royal Salt Works, now called the "Utopian City," was built during the Enlightenment with the goal of being a work "as pure as path of the sun." Today it continues its humanist mission, perpetuating the utopian ideas behind its original construction in its new role as a crossroads for the domains of economics, art, research and philosophy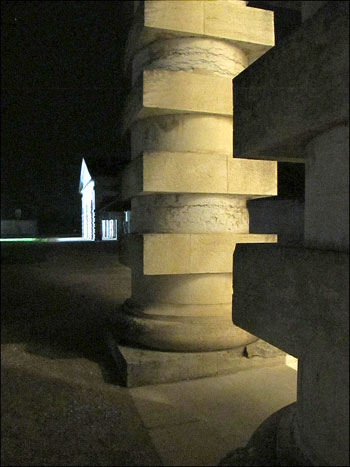 La Saline Royale, Utopian City
Open from March to November
31 designer guest rooms
2 modular rooms, one 1,890m2 and the other 1,100m2, with a capacity of up to 900 people
5 meeting rooms for over 100 people, fully equipped with adjustable decorative elements
3 meeting rooms for 15 to 20 people, ideal for small gatherings and committee meetings
3 dining rooms
Part or all of the Royal Salt Works can be rented for a private function; event organizers available to take care of all arrangements
4000m2 of exposition space for business meetings (seminars, conventions, conferences, product launches, or special evening events), or private events (weddings, receptions, cocktails banquets, or family reunions)
Custom catering for seminars or events, in partnership with famous chefs and catering companies who use local products and create special menus, for example, on the theme of salt or unique dishes with matching wines
Private parking for guests
Photos © Saline Royale and © Marc Quaghebeur
Activites at Saline Royale, Utopian City
Museum with permanent and temporary exhibits
Garden Festival
Philosophy and writing workshops
Qi Gong classes
Hot Air Balloon trips from the Salt Works
Light meals at the Café des Jardins, open from March to October in one of the museum's buildings
Near Saline Royale, Utopian City
Eurovélo bicycle path in the Chaux Forest
Canoeing and kayaking on the Loue River (from May to September)
Visits to Jura wineries and Comté cheese works
Salins-les-Bains hot springs
Remarkable nearby cities: Besançon, Dôle, Arbois
Location:
25610 Arc-et-Senans
Lausanne (Switzerland): 1h30 by TGV
Paris: 2h20 direct via TGV (Mouchard station, 7km from the Royal Salt Works)
Autoroute A36 (exit Gendrey/Saline Royale) and A39 (exit Poligny)
Rates* :
Room B