Le Manoir Equivocal—an unusual and original bed and breakfast in Burgundy, between Dijon and Beaune

Le Manoir Equivocal is an unusual and original bed and breakfast in Burgundy, 30 minutes from Dijon and 10 minutes from Beaune and Nuits-Saint-Georges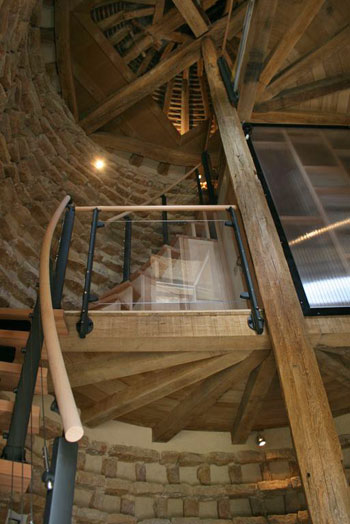 Le Manoir Equivocal is the creation of Irène, whose personality and travels have left their mark on the décor and the ambiance, which is relaxed, welcoming, and restorative.
The building's 15th century architecture has been placed on the supplementary list of official historic monuments, and has reaped the benefits of a meticulous restoration. The walls, central tower with its slanted roof, mullioned windows, and ceilings à la française recount the Manoir's history. The interior restoration has peeled away all traces of previous overhauls, giving the original structure a new life. Guest rooms have a huge fireplace in front of the bed, antique windows with espagnolettes, Chinese decorative objects brought back from trips to Asia.
Le Manoir Equivocal, a serene and pure setting, where authenticity is a way of life.
Le Manoir Equivocal
2 rooms and 2 suites
In the rooms: safe, TV with speakers, courtesy platter
Internet access in the rooms and common areas
The restoration took 15 years for the Manoir and 2 for the dovecote; opened in July 2012
Free guest parking
Le Manoir Equivocal can pick up guests from the Corgoloin train station or arrange for car rental from Beaune, Dijon, or Lyon

Activities at Le Manoir Equivocal
Rent bicycles or a collectors tandem bicycle
Kite flying with Chinese kites from the Manoir Equivocal's collection
Badminton, bacci, and palets Breton game

Activities and remarkable sites near Le Manoir Equivocal
Hiking, horseback riding, spa and beauty treatments, climbing

Hospices de Beaune: 15mn
Citeaux Abbey: 10km (15 min)
Clos de Vougeot (12th century castle where the monks of Citeaux started making Burgundy wine): 12km (15 min)
Chateauneuf-en-Auxois (medieval cliff-top castle in an historic village): 30km (40 min)
The Dukes of Burgundy Palace: 30km (35 min)
Le Manoir Equivocal is located on the Burgundy Grands Crus wine route, which is a candidate as part of the Burgundy Wineries to be a UNESCO World Heritage Site. The route winds by Château de Pommard, Château de Meursault, Château de Corton, Château de Savigny-les-Beaunes, Puligny and Chassagne Montrachet, Gevrey Chambertin, and Pernand-Vergelesses

Location:
21700 Corgoloin
Beaune: 9km (10mn)
Dijon: 35km (30mn)
Lyon: 1h with the TGV (High Speed Train) and 165km (1h30) by car
Genève: 240km (2h30)
Paris: 2h with the TGV (High Speed Train) and 300km (3h) by car

Rates*:
Room C