Fauchon l'Hôtel Paris, gourmet hotel in Paris, on the place de la Madeleine

Fauchon is initiating a new concept -the gourmet hotel- and opens a new address in the place de la Madeleine in Paris, by joining with Esprit de France (Hotels & Demeures).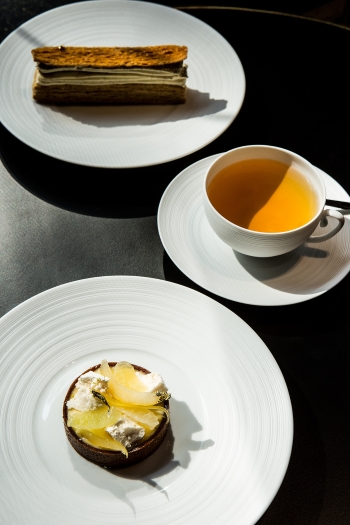 The emblematic Fauchon's colours -white, black, magenta and gold- compose a glittering interior decor. The Haussman-style architecture has been impeccably renovated. Rooms and suites are all unique, and are equipped of an exclusive piece of furniture designed by Sacha Lakic, the gourmet-bar: guests can buy it on impulse and have it delivered everywhere in the world.
Vincent Ricor, who is perfume designer in Grasse, has created a unique home fragrance, to be released in the public areas of the hotel. Glamour ambiance and sur-mesure service at the Grand Café Fauchon, located at the corner of the Boulevard de la Madeleine and the Boulevard Malesherbes, which serves gastronomic dishes and menus for two, to be shared.
Fauchon l'Hôtel Paris
37 rooms and 17 suites
Rooms and suites are equipped of a refrigerated gourmet-bar with a selection of sweet and salty delicatessen by Fauchon, an optimal sound absorption and insulation, a pad which can be connected to the TV and a direct access to Spotify and Netflix and have a view of Paris.
Breakfast or tea can be taken in the lounge topped with a glass roof.
Private library for the guests.
Spa Carita offering beauty or anti-aging care, and a sur-mesure "celebration" care with a gourmet ritual (4h)
Photos © Fauchon
Location
Facing the Eglise de la Madeleine in Paris
Rates
D