The Nolinski, boutique hotel on the Opera avenue in Paris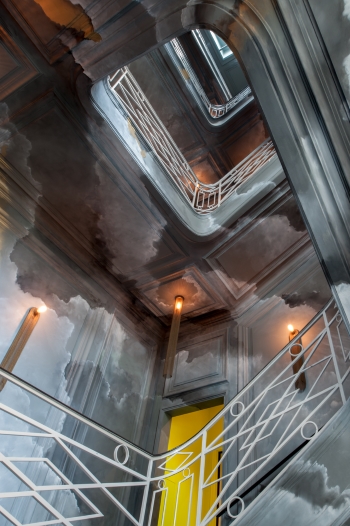 Situated near the Palais-Royal and the Louvre, It is only natural for the decoration of the hotel to be inspired by arts. Inside a Haussmann-style architecture, Jean-Louis Deniot, designer, imagined an Art Deco look for the interiors and preserved the atmosphere of a particular house.
Everything is refined here, the decor with true works of art, the internal staircases decorated by a collective of artists, the smiling welcome, the possibility to adjoin several connecting rooms for families, nothing is impossible.
Welcome to the inner circle, a gallery of precious moments.
The Nolinski
45 rooms and suites, totally sound-proofed, equiped with a lacquered wood wardrobe, a safe, mini-bar, room service 24/7
Smartphone at guest's disposal to phone all over the world for free and a dedicated application to get informations about the neighbourhood of the hotel.
Réjane brasserie (French cuisine), open on the avenue de l'Opéra, with different spaces, including a room with a table d'hôtes available for private events.
Large lounge library with a grand piano and a computer at guest's disposal
SPA Nolinski by La Colline with a 15m pool, subdued light for a full relaxing.
Frequent events around art, burlesque cabarets, soirée 'les Inattendus' (the unexpected) accessible by invitation only.
Location
Paris (1er)
The Comédie Française, the Louvre, the Tuileries gardens, the Palais Royal and the rue Saint-Honoré accessible by foot.
Opéra Garnier at 850m
Rates* :
D