U Palazzu Serenu, a designer hotel in Upper Corsica between Bastia and Saint Florent

U Palazzu Serenu is a designer hotel in Upper Corsica between Bastia and Saint Florent at the foot of Cap Corse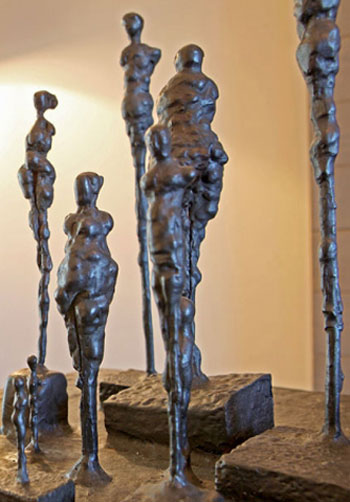 Located in Oletta in the heights of Saint Florent, U Palazzu Serenu is blessed with an amazing view of the Agriates desert, the Nebbiu mountains, and the Gulf of Saint Florent. The building's exterior is that of a 17th century Florentine-style palace, with a square tower and remarkably well preserved architecture. The interior has had a subtle designer makeover by the interior designer Nathalie Battesti, a former student of André Putman and Christian Liaigre. As you explore the bar, salon, or the restaurant, you will discover works by Anish Kapoor, Daniel Arsham, Paul de Pignol, Wendy Wischer, Udo Nöger, Manuel Mérida, and Yvan Rebyj.
Refined luxury and serenity predominate in the rooms, which boast unique pieces by Kim Tschang Yeul and Conrad Marca-Relli.
U Palazzu Serenu in Corsica is a haven of contemporary art for those who know how to enjoy life.
U Palazzu Serenu
Four-star hotel
English and Italian spoken
6 rooms and 3 suites
Rooms are equipped with TV, DVD player, mini-bar, and safe; handicapped-accessible room available
Small restaurant with a capacity of 25 proposing light Mediterranean cuisine inspired by Corsican traditions and complemented by a wine list featuring Corsican wines Free Internet access in the rooms
20-meter long lap pool
U Palazzu Serenu can come pick you up or arrange for car rental at the Bastia airport through a special agreement with a car rental company (by reservation)
Hotel opened in December 2009 after 18 months of rénovations

At U Palazzu Serenu
Pool, well-being centre (massages)

Nature and activities near U Palazzu Serenu
U Palazzu Serenu is located in the Nebbio region (Nebbiu in Corsican), bordered by the Agriates desert, the Gulf of Saint Florent and Cap Corse to the north Saint Florent: 9km (10 min) sailing and aquatic sports in the sea, boat rental, diving, water skiing
Tours of the Patrimonio wineries: 15km (20 min)
Agriates Desert: 25km (30 min, includes the beaches of Saleccia, Lotu, and Mafalcu)
Cap Corse: 75km (1h30)
Hiking trips near the hotel with or without a guide (GR 20 trailhead south of Calvi, 80km from the hotel, 1h20 by car)
Hunting in season

Remarkable monuments and cultural events near U Palazzu Serenu
Bastia: 19km (30 min, not to be missed: the Bastia citadel and its ramparts, the Governors' Palace, the Theater, the Romieu Gardens, the Saint-Nicolas square and the Marketplace, the historic city center and the old port of Bastia
Guitar Nights in Patrimonio (mid-July): 10km from the hotel
Porto Latino in Saint Florent (beginning of August): 7km from the hotel

Location:
20232 Oletta
Saint-Florent: 9km (10mn)
Bastia: 19km (20mn)
Bastia airport: 24km (25mn)
Calvi: 75km (1h30)
Paris: 1h30 (by plane)

Rates*:
Room C to D, suite D (low season); room Luxury A and suite Luxury A and B (high season)