La Sivolière, a luxury boutique hotel in the French Alps, at the foot of the ski slopes

La Sivolière is a luxury boutique hotel at the Courchevel 1850 ski resort in the French Alps, at the foot of the ski slopes in Savoy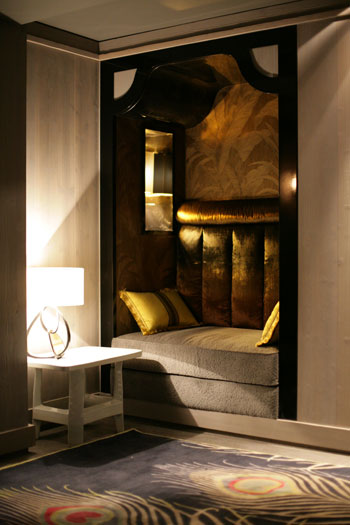 Located in the middle of a stand of fir trees, the chalet is tucked into tranquil, natural surroundings. In front, a tall metallic structure, the "Sifel Chair" by Caroline Corbeau, greets the visitor. La Sivolière's unique character is apparent at first glance, a mix of Savoyard architecture and contemporary art.
The interiors, created by architect Pascal Chatron-Michaud and designer Tristan Auer, harmonize subtle authenticity with natural materials like wood and stone. A delightful mélange of chic furniture and original objects: a lobby with sofas inspired by Japan and Art Nouveau; a plush alcove in an entryway; a bar-sitting room for guests with hanging lamps and trompe-l'oeil candles for otherworldly lighting. A nod to the magnificent nature that surrounds the chalet, a Gaetano Pesce couch recalls mountains and waterfalls. Every detail of the décor tells a story.
La Sivolière, sophisticated skiing and elegant relaxation in a harmonious setting, where the art of living is a way of life.

Hotel La Sivolière
24 rooms, 11 suites and 2 duplex apartments
English spoken
Concierge and butler at guests' service
Wi-Fi Internet access, LED televisions with satellite channels and Blu Ray players in rooms
"La Voiture" shuttle brings guests to the center of the Courchevel 1850 resort from 7:30am to 4am

Billal Amrani, chef of the "1850" restaurant, 3 red forks in the Guide Michelin, offers flavorful cuisine with exquisitely fresh and authentic ingredients
For light meals, the "Dou du Midi", accessible on skis from the slopes, offers soups, gourmet open-face sandwiches, and desserts, with a special Kids Terrace
Ski Salon for guests with specialized staff to help with equipment, maintenance, and ski passes
Relaxation space with balneotherapy pool, lap pool, steam room, sauna, massage room (classic, after-ski) and fitness room with cardio training equipment
Christophe Pirel – licensed osteopath offering a range of treatments


Kids Club with special desk where children can sign up for the week's activities, including workshops for apprentice chocolate-makers, chemists, perfume-makers, or artists…
For the winter 2012/2013 season, snacktime in an igloo near the hotel, hosted by a mountain guide
Children's restaurant, the "Mini 1850" with the "Mini Dou" fixed menu at lunch and "mocktails" (alcohol-free cocktails) in the evening (with a group leader, on demand)
Baby-sitting (by reservation)


Dry food on arrival, dog-sitting service with half-pension, walks by specially trained staff in Courchevel 1850

At Courchevel 1850:
Courchevel heliport (10 minutes by car) with deluxe helicopters and business airplanes, offering flights for heli-ski and links to major airports
The 3 Valleys ski domain offers 600km of ski runs
Snowshoes, flying lessons, snow scooters, parapente, sledding, bowling, skating…

Exclusive and limited private offers for the Hotel La Sivolière

Limited private offer: "Snowtime"
Valid from January 12th until February 13th 2015 and from March 08th until April 12th 2015 (available on all rooms and suites type, commissionable)
Rate starting at 580 € per night and including for a comfortable and cosy double room or suite from Sunday to Thursday
Delicious buffet breakfast and access to the well-being area with swimming pool, steam room and sauna
Wifi, VAT and services
6 nights = 7 nights exclusive offer
Valid from January 12th until February 13th 2015 and from March 08th until April 12th 2015 (Offer available on all rooms and suites type, commissionable)
Rate starting at 763 € per night and including: 6 nights on half board, the last 7th night is offered on BandB basis.
A comfortable and cosy double room or suite, delicious buffet breakfast
Gourmet dinners at "Le 1850" restaurant
Access to the well-being area with swimming pool, steam room and sauna
Wifi, VAT and services
Exclusive offer from Sunday to Thursday Valid from January 12th until February 13th 2015 and from March 08th until April 12th 2015 (Offer available on all rooms and suites type, commissionable)
Rate starting at 700 € per night and including:
A comfortable and cosy double room or suite from Sunday to Thursday Delicious buffet breakfast and gourmet dinners at "Le 1850" restaurant
Access to the well-being area with swimming pool, steam room and sauna
Wifi, VAT and services

The Hotel La Sivolière will answer directly to all requests concerning these exclusive offers

Location:
Courchevel 1850
Moutiers : 25km (35mn)
Albertville : 50km (55mn)
Megève : 85km (1h30)
Aéroport de Chambéry : 109km (1h20)
Aéroport de Genève : 142km (2h)
Aéroport de Grenoble : 182km (2h)
Aéroport de Lyon : 186km (2h)
Amsterdam - Moutiers (par le Thalys) : 7h

Rates* :
Luxury C and Luxury D