Brunch at 1pm on Sunday, not like the others

The cosmopolitan influences flood in on the new DS Café menu which name "Look Good" (Bonne Mine) is full of promises. What hasn't changed is the freshness of the ingredients and the lightness of the food.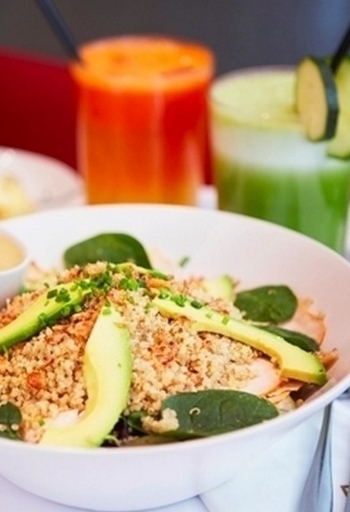 The DS Café it is both the parisian café atmosphere, the ultra-light food of an organic restaurant and the up-to-date decor of a fashionable canteen.
We begin by a fresh mocktail, which mix several vegetable and a fruit to sweeten the drink, and the green juice made of cucumber, apple and ginger is aptly named and coloured. Then there is a large range of salads, hot dishes or bowls that can be green, healthy or vegan, with all possible sets.
At the end of the meal, it is quite nice to have the choice between the Barbarac ice creams from Saint-Tropez or the cheese cake mazeltov by Jean-Paul Hévin, made for the DS Café, following an ultra light recipe: I chose the cheese cake and put it on my Instagram.