Gastronomic dinner as if we were in Piazza di Bolzano

The Province of Bolzano or Alto Adige is located in the north of Italy, at the Austrian border. Also called « South Tyrol », it is nevertheless Italian and the event which took place at the Atelier des Chefs in Paris this week, particularly seduced the guests by a warm welcome.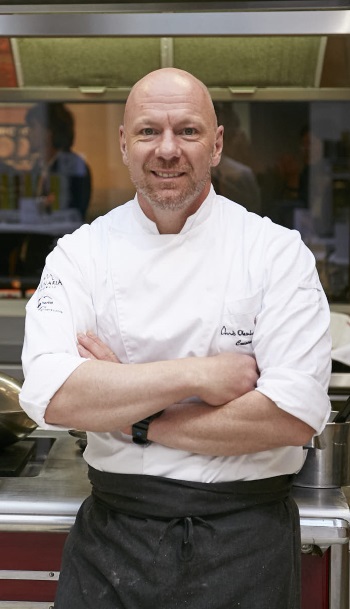 Chris Oberhammer, the Michelin starred Chef of the restaurant Tilia, located in Dobbiano, came to Paris especially for the event : the South Tyrol is very proud of its 23 Michelin stars, while the Province of Bolzano is twice the size of the state of Rhode Island. We discovered a discrete region, with a rare natural wealth, where local flavour and avant-garde cooking balance themselves.

Chris Oberhammer cooked the dinner in front of us: at first, a barney soup followed by pastas cooked like a «risotto» with asparagus from Terlano and a piece of Lagrein braised beef with organic polenta from Villabassa. He underscored not only on the quality of the products, but also on the fact that all producers were located very near from his restaurant Tilia, in South Tyrol.

I am sitting at the same table as Gilles Pudlowski (famous French gastro critic) who comments on the courses, the food and wine matches, using the gastronomic vocabulary imaginatively as he loves the French language, while keeping on posting photos on his Instagram, during the dinner.

At the end, we are fed an extremely light tiramisu with apples of the South Tyrol, as if we were in the Piazza di Bolzano.
Chris Oberhammer is Chef of the restaurant Tilia >>
Boutique hotel with 2-Star Michelin restaurant next to Bolzano >>
Unusual hotel in Bolzano >>
South Tyrol >>
Boutique hotels and designer Bbs in Paris, Hotels for business travelers and Unusual places and secret addresses