Monumental textile sculptures next to the Boulevard Haussmann

From the Boulevard Haussmann, one can see the gardens of the surprisedly little-known Chapelle Expiatoire, though it was build in memory of King Louis XVI and Marie-Antoinette.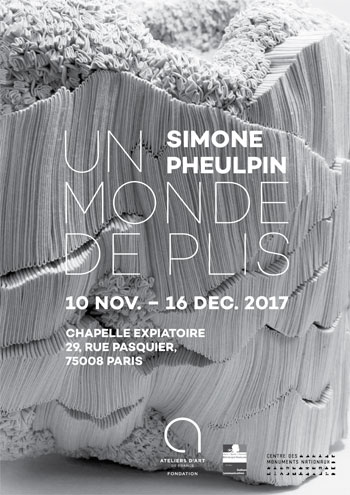 It was necessary to find a very singular place to display the astonishing textile sculptures of Simone Pheulpin, self-taught artist, whose sensitiveness and simplicity contrast with the extreme masterliness with which she creates stunning objects.
The sculptures are placed in circles in the middle of the chapel and near the altar, to walk around and watch them from different angles. Boards made of fabrics and X-ray photographs, where it is possible to discover the sculpture of pins inside each work, are displayed in the crypt. The sacristy has been transformed into a showcase of curiosities, in which each creation appears more amazing than the last. And even a bronze sculpture, in original only, created from the master sculpture in fabric, which had then to be sacrified.
Vosges' cotton, pins and time, it is all what Simone Pheulpin needs to create. « Nature is inspiring me. I began with an idea, but sometimes the fabric does not want. I try to influence it, but in the end, it is up to it. » Simone Pheulpin is Lauréate (Winner) of the Prix Le Créateur des Ateliers d'Art de France, her work has been shown in exhibitions all over the world, at the Studio Harcourt and the Plaza Athenee.
Un monde de plis, Simone Pheulpin at the Chapelle Expiatoire until December 16th, 2017 >>