Yves Klein's blue colored eggs for Easter

Yves Klein's blue colored pieces of art, facing the art reproduction of the Maître who inspired them, will be displayed in the lobby, the Mappemonde lounge and the Orangerie bar of the Grand Hôtel de Bordeaux.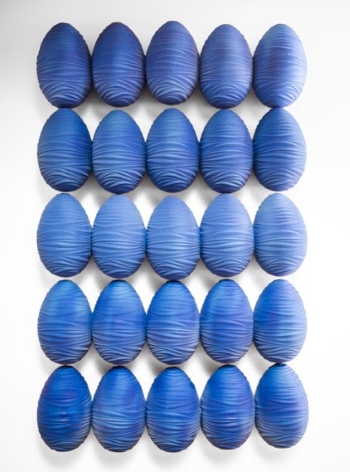 Executive pastry chef of the Pressoir d'Argent Gordon Ramsay, Arthur Fèvre has been strongly impressed by Yves Klein's work and his iconic blue. The Maître would have been 90 years old in 2018, the occasion for paying tribute to him for Easter: the young pastry prodigy decided to transcend the chocolate by creating IKB colored masterpieces, of extreme technicity, particularly for the reproduction of the Yves Klein's blue.
Two blue eggs on a base, featuring the globe are facing each other, a blue sponge perched on a stem, a blue bundle on a vine stock and other unique pieces of art will be displayed from March 23rd to April 8th, 2018.
"Rencontre d'Yves Klein et d'Arthur Fèvre" at the InterContinental Bordeaux - Le Grand Hôtel >>